Posidonia al Metstrade di Amsterdam !

Posidonia al Metstrade di Amsterdam !
Nonostante gli ultimi sviluppi della pandemia e le restrizioni introdotte dal governo olandese la più importante fiera della componentistica navale  ha avuto inizio! 
Noi di Posidonia abbiamo portato in fiera due prodotti innovativi:
L'ancora a scomparsa con la piastra inox lucidata a specchio
Fornita allo yacht più lungo del 2019, lungo 150 metri, quest'ancora ha particolarità di scomparire totalmente nella tasca dello yacht rendendo la murata più uniforme e riduce i movimenti dell'ancora stessa creando quindi meno vibrazioni ed eventuali danni o rumori.
Il modello presentato in fiera è un HV zincato con la sola piastra in inox lucidata a specchio. Questo porta ha una riduzione dei costi, senza sacrificare l'eleganza.
L'altro prodotto portato alla ribalta della fiera è il drone marino da salvataggio Dolphin1. Un prodotto pensato per soccorrere le persone in mare nel più breve tempo possibile e riportarle a riva o in barca. Comandato da un radiocomando ha un range di 500 metri e una velocità di 8 nodi, ovvero quasi 15 km all'ora. La forma ad uovo la rende perfetta per saltare onde, secche e qualunque cosa gli si presenti davanti, rendendolo non pericoloso.
Con noi c'è Mister Armand Diets- nostro agente esclusivo per i paesi bassi, ci ha accompagnato e fatto conoscere la parte più gustosa dell'Olanda.
Non possiamo dire che la fiera si al completo, molti stand sono rimasti vuoti per defezione all'ultimo momento dovute alla ripresa della situazione pandemica e alle restrizioni immesse dal governo. 
Ma la fiera deve continuare e la nautica crescere.
Posidonia, padiglione 3. stand 3.214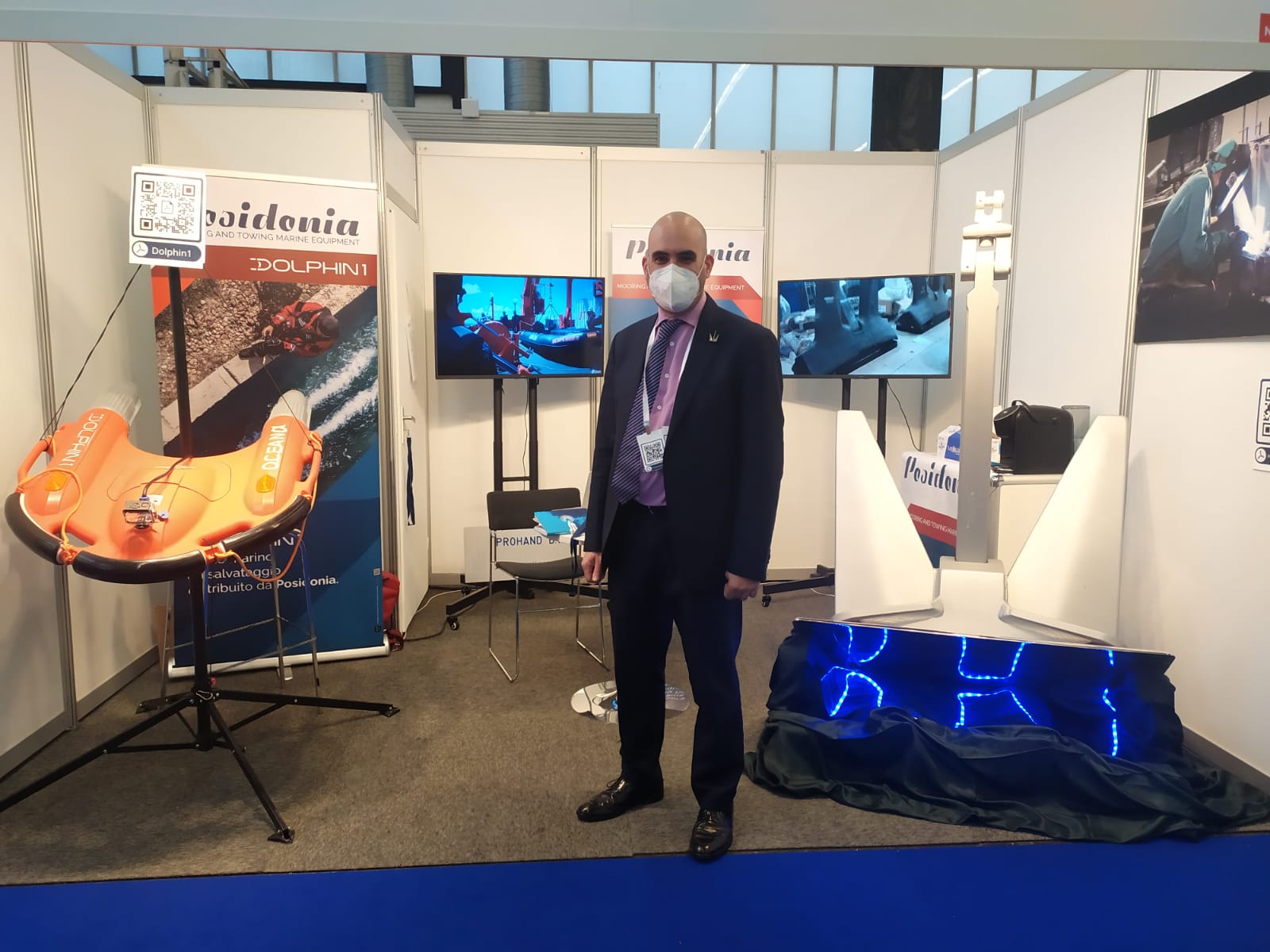 Posidonia at the Metstrade in Amsterdam!
Despite the latest developments of the pandemic and the restrictions introduced by the Dutch government, the most important naval components exposition has begun!
We at Posidonia brought two innovative products to the fair:
The retractable anchor with the mirror-polished stainless steel plate, supplied to the longest yacht of 2019, 150 meters long. The peculiarity is that the anchor disappears completely in the yacht pocket making the side more uniform and reduces the movements of the anchor itself, this creating less vibrations and any damage or noise.
The model presented at the fair is a galvanized HV with only the mirror polished stainless steel plate.  This brings to a cost reduction, without sacrificing elegance.
The other product brought to the fore at the fair is the Dolphin1 marine rescue drone. A product designed to rescue people at sea in the shortest possible time and bring them back to shore or by boat. Commanded by a remote control, with a range of 500 meters and a speed of 8 knots, or almost 15 km/h. The egg shape makes it perfect for jumping waves, shoals and whatever comes in front of it, making it non-dangerous.
With us is Mister Armand Diets- our exclusive agent for the netherlands, he accompanied us and introduced us to the amusing part of Holland.
We cannot say that the fair is fully booked, many stands remained empty due to last-minute deflection due to the resumption of the pandemic situation and the restrictions imposed by the government.
But the show must go on and the nautical sector must grow.
Posidonia, hall 3. stand 3.214
Tags: Dolphin1, Posidonia, anchor , ancore, mets, exposition, fiera, marine equipment, equipaggiamenti marini, Netherlands, Olanda, chain, catene, super yacht